Wheel Alignment Laser Tools for Trucks and Trailers
August 23rd, 2013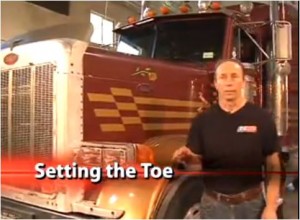 DennisB WiseAutoTools.com © Summary: Alignment tools by EZ Red saves time and money by allowing anyone with moderate mechanical ability to align the wheels on trucks and trailers. Owner operators can align their own semi truck and trailer saving the expense of prematurely wearing tires unevenly.
Many repair shops don't have the room to dedicate to big truck alignments. With the EZLine wheel alignment kit, alignments can be done on the spot without the need to tie up valuable shop space. The EZ Line alignment system can pay for itself with one alignment considering the cost of replacement tires nowadays.
EZ Red has been manufacturing innovative products since 1966. The advances in technology and access to lasers to incorporate into the EZLine alignment tool kit has made an affordable solution available to any truck owner and repair shops. The manufacturer says that hooking up and checking the toe readings can be done in as little as 10 minutes. Other measurements can be checked as well.
Toe Setting
The toe setting is the most crucial when it comes to tire wear. If the toe reading is not within specifications, tires can experience fast edge wear. Think of the toe reading of the tires similar to the direction of your own feet when walking. If the tires are pointed outward, the inside edge of the tires will wear quickly. If the tires are pointed too much inward, the wear will be accelerated on the outside edge of the tires. Straight ahead is zero toe. Usually the manufacturers want a little "toe in" to help compensate for the outward force that is applied when the truck is being driven at highway speeds.
Trailer Axle Tracking
The EZ Red alignment system can also be used for aligning the trailer axles eliminating "dog tracking" when pulling the trailer. Also detect axles that are offset. Laser alignment is performed with the lasers by referencing angles from the rear axles in relation to themselves an in relation to the center tow line (5th wheel attachment point).
Compact Enough to Go Mobile. Be sure to check out the related video and the product listing linked below the manufacturer's information.
EZLINE®
Introducing The Most Accurate, Affordable,
Compact, Portable Laser Alignment Tool!
Multipurpose measurement capabilities, saves time and money!
• For heavy trucks and all types of trailers.
• E-Z, fast, precise axle & wheel alignment.
• All measurements can be made in less than 10 minutes.
• Simple 2 step instructions.
• Compact design, easy transport and storage.
  Related
EZLINE Laser Alignment Kit with demonstration video
Write a comment