TIME-SERT Kit Selection
July 3rd, 2016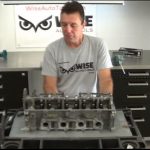 DennisB WiseAutoTools.com No time to read? Give us a call at 800-734-8665 x251. © Summary: Answers from a technician that has experience selling, but most importantly "using" Time Sert kits. Which Time Sert kit is best for your problem? We'll be happy to help with the best Time Sert kit selection or maybe even offer a lower cost alternative that has dependable results.
Questions answered by a Master Tech. When purchased from us at WiseAutoTools.com or our second website DenLorsTools.com we offer fast shipping and extra tips on certain kits usage. We've answered many questions over the years regarding Time Sert kits for different applications. Things we'll need to know before making a recommendation will be: The Year, Make Model and size engine. Also was there a previous repair before? We suggest the kit needed to do the repair that is best, based on your circumstances. We are a stocking distributor of Time Sert kits and inserts and have fast shipping available to get your vehicle (or your customer's) back on the road quickly. We also sell Calvan kits that is a lower cost alternative, if it applies to your particular situation.
Since aluminum is used in so much in engine components today to reduce vehicle weight, threads are a common weak point. Spark plug threads, head bolt threads, oil pan threads, rocker arm threads, glow plug threads just to name a few.
Below is just one video addressing the question of "Why it's important to make sure the valves are closed before working on spark plug thread repair".
We have the 389-4000 leak tester available for use with Time Sert kits that don't include them. The tester makes it really easy to make sure the valves are closed before proceeding with the repair. We offer the Time Sert 5553 for instance in one listing with this valve for free. But it's also available separately. The Calvan 38900 kits all come with this tester already.
Want to see the Time Sert 5600 in use? Well we have the video below of this kit being used on an F150 truck that had a previous repair that made the hole too large for a smaller insert/repair. Now this is about a 20 minute video but explains how the kit is used. It's simple. The laminated instructions that are included in the kit should be used also. The video is not intended to replace the instructions included with the Time-Sert kit. Have any questions about application or use? Give us a call and we'll hook you up, just use our toll free number 800-734-8665 x251.
More research? See our Ford Spark Plug Blowouts article that goes more in depth. If you get overwhelmed don't worry just give us a call for quick guidance in selecting the right kit.
Write a comment