TIME-SERT 5600 Made in the USA!
September 16th, 2015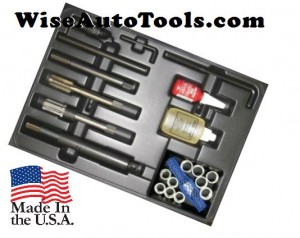 DennisB WiseAutoTools.com © Summary: Wise Auto Tools is happy to offer the Time Sert 5600 which is made in the USA. With so many China made spark plug thread repairs being sold at parts stores that tend to fail sooner or later. It's good to know that an American made kit can save our customers the expense of replacing a cylinder head. Engineered and manufacture in Reno Nevada, the Time Fastener company AKA Time Sert, has been designing kits like this for years. You may never have heard of them. In fact most people in the auto repair business think of the name Heli Coil when it comes to thread repair. 
Well we actually offer Time Sert products to fix threads when Heli Coil fails also. Helicoils work in a lot of applications, however when it comes to certain applications, they're simply not the best. Spark plug thread repairs have to handle combustion pressure and heat. The repair also has to withstand contracting and expansion related to heating and cooling issues. The fact that Time Sert inserts are held in from the bottom, makes them a much better solution. Below is what our recent customers have to say about the Time Sert 5600 kit.
Permanently Repairs Parts Store Patch Jobs!
Posted by Clark S. on 13th Sep 2015
Based on parts guy recommendation, used a Dorman 42025 and it lasted 3 months. Used a Heli Coil Save -A-Thread because it was a little bigger than the Dorman kit – it lasted 2 weeks. The Time Sert 5600 is by far the best design. Obvious that the engineering and manufacturing is superior to anything else I found. The large size on the outside measurement makes this work even though I've had two parts store patch kits fail!
---
Time Sert Triple Overize Spark Plug Kit
Posted by Michael S. on 24th Aug 2015
Great product. Dennis was helpful in answering all my questions. Takes the original size spark plug and runs great!
---
TIME-SERT is da BOMB!
Posted by Brad C. on 14th Aug 2015
Thought after the parts store insert blew out I had to buy a new head. Found the Time Sert 5600 triple o-size kit. Great kit, simple to use. Also purchased a cheap video inspection camera (WST-WIC-1269CRTN) on this site to make sure all the metal was out of the cylinder. Made feel a lot better about finishing the install. Would have given it a 5 star rating if it would have come with the 389-4000 leak down valve. Over all though, TIME-SERT is da bomb.
---
5.4 Triton Spark Plug Rescue
Posted by Craig R on 17th Jul 2015
I have 1999 Ford Expedition with the notorious spark plug problem. However, this time a spark plug that had repaired before failed. It only had 100,000 miles on the repair :). The vehicle has a total of 215,000 miles total on it. The Time-SERT 5600 was a life saver for the Expedition, literally. If didn't work I was going to salvage the rig. The 5600 was easy to use. It took about only 2 hours for an amateur to install. I have put on several thousand miles since the repair.
---
Save-A-Thred almost trashed my head!
Posted by Leroy M. on 11th Jul 2015
Used the Time Sert 5600 to fix it right, after a Heli Coil Save-A-Thred blew back out after just two frikin months. The tool kit works great, you can really tell quality when you're using it yourself. The Calvan 389-4000 that I bought separately also made the job easier, because I didn't have to pull the valve cover. Thankful that the Sav-A-Thred fiasco didn't ruin my head.
---
Last chance is right!
Posted by Brent D on 9th Jul 2015
Product worked as advertised on my 5.4 Triton heads in a 98 Ford F250. Saved me the removal of the heads… now I can start on the leaking exhaust gaskets!!
---
Work truck on the Road Again
Posted by Jim D on 7th Jul 2015
Worked great! After 3 failed thread serts in the same cylinder in my 2000 Ford E350 van, the Time Sert worked so well I thought we were doing something wrong.Very nice quality tool set. Can't imagine a pro shop doing this in a van though. Thanks for the help Dennis.
---
YUP!
Posted by Max l A. on 24th May 2015
If you are looking to get the job done easy fast and secure this is the kit…… I just used this kit on my 99 F350 6.8 cylinder #5, the toughest one to work on, and it took a little over an hour to finish, easy job and solid kit… very satisfied?…YUP!
---
Great Tool
Posted by Scott M on 15th Apr 2015
I used this tool to replace a previously installed and failed insert. Very well made and well thought out tool. Was able to repair the previous failed repair in less than an hour. Was used on a 03 F250 6.8L. If the regular Time-Sert kit was used the first time I would not have needed this kit.
---
Easy to use Ford Spark Plug Blow Out Kit
Posted by Marvin S. on 1st Mar 2015
2002 Ford F150 4.6L – this was a repair for a cylinder that had failed threads for the spark plug. The triple oversized repair kit worked excellent. This was the first time I did any repair with a spark plug replacement thread insert. Instructions were excellent and thorough. Truck is running fine.
Was able to retrieve smaller insert out of engine using this kit!
Posted by Walt T on 27th Feb 2015
I had used a cheaper kit and the insert went all the way in the engine. Used this kit to ream hole. Was able to get 1st insert out with praying and patience. Finished install and truck running great. Cost me some money but could have been a lot worse if I had to pull head to get insert out of combustion chamber. I prayed and he Lord provided through this company and product.
Walt Thrower
His garage
She's on the road again..
Posted by Sonny on 24th Feb 2015
I have an 01 Lincoln Navigator. She broke down and blew a spark plug. So I had it worked on by a local mechanic who installed a part's store spark plug repair kit. It worked for about a month before it blew again. So I took a chance and called Dennis @ Denlors/Wise auto tools who was able to answer my questions and concerns.
The time sert 5600 kit was awesome! Came with everything I needed to repair my Navigator. Had detailed instructions step by step and Dennis from wise auto also has videos online to be able to walk you through the repair. Within a matter of hours I was starting my Navigator and I'm now driving it again. I would have given 5 stars but I'm waiting to see how long it lasts. Overall a great kit!
My yard ornament is back in the driveway.
Posted by Ronald K Portz on 12th Nov 2014
Very happy with repair. Cost seemed high but not as high as downtime and replacing entire heads. I tried all types of repairs, this is the last chance triple oversized.
Write a comment