Rescue Bits Info and FAQ's – Removing Broken Bolts and EZ Outs
January 21st, 2015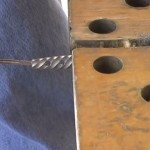 DennisB WiseAutoTools.com © Summary: EZ outs, drill bits and other tooling, due to there very hard metal compound are extremely difficult to drill out. The metal is so hard that a regular or even a cobalt drill bit cannot drill it effectively. We've had many customers call to ask us "What do you have that can drill out a broken EZ Out? Fortunately, we have the Rescue Bit that in many cases can save the day. 
Since broken EZ Outs, taps and drill bits are almost impossible to remove by drilling, most people are at a loss of what to do. Some of our customers have tried drilling out broken tools like we've mentioned, with Cobalt drill bits with little or no success. Tools like these were never intended or designed to be drilled. EZ Outs and other tools like taps and drill bits have very hard metal compounds. The result is a brittle tool that is vulnerable breaking easily when too much force is applied. Some customers have received quotes from a mobile metal disintegration company, to make a service call to their location and use an expensive process to remove their broken EZ Out. One recent caller was quoted $1200 to have one exhaust stud hole cleared of one broken EZ Out, on his boat engine. He had broken an exhaust stud and then broke an easy out trying to get that removed. He was successful in using the Rescue Bit and saved over $1100. For purchasing the Rescue Bit Products, we have two websites – DenLorsTools.com and WiseAutoTools.com. Read on for FAQ's.
We frequently have calls like this;
Caller says – Let me tell you what I have. I had a broken exhaust manifold stud in my engine. I drilled the center of the broken stud. Then I tried to use an EZ Out. The EZ out broke. I drilled the EZ Out with a Cobalt drill bit and it broke also, that's in there too. I saw the video of the Rescue Bit. I don't mind spending the money if it really works.
Caller's question – Will the Rescue Bit drill the EZ Out and the Cobalt drill bit out?
Answer – The Rescue Bit is made of Tungsten Carbide and was designed specifically for the purpose of drilling out very hard metal compounds, like the EZ Out and Cobalt drill bit material. Since it has to be a very hard metal compound, one of the resulting characteristics is that it can be brittle. Whenever something is really hard, it is also susceptible to breaking. However, if the Rescue Bit was not as hard as it is it wouldn't be capable of doing the job.
Caller's question – Is there a guarantee that it will drill out my broken tools or a warranty if the Rescue Bit breaks or gets dull?
Answer – No. We cannot guarantee your success. The manufacturer provides no warranty on the Rescue Bit, just like there's no warranty on drill bits. This is a standard in the tool industry. The risk is entirely yours. Like mentioned, the Rescue Bit is susceptible to breaking because of the characteristic of the compound it's made of. However, if they were manufactured with softer material they would break as easily, but they would not be able to drill out tooling.
Caller's question – What if it breaks? How do I get a broken Rescue Bit out?
Answer – The way the Rescue Bit supposed to be used, you make a small circular motion when drilling. If this is done properly it is less likely to bind and break. If it does break however, it shouldn't be wedged in tight so hopefully it can be removed without too much difficulty. Then since all of our Rescue Bits are double ended, it can be flipped over and the other side can be used. The Rescue Bit provides a chance to drill something that normally cannot be drilled. It is not invincible though and we want to be clear on that.
Caller's question – Can I use a regular drill? What about a drill press?
Answer – Yes a regular drill can be used. No, the makers of the Rescue Bit do not recommend using a drill press. The maker of the Rescue Bit says that different metals can be drilled best at different speeds. They recommend using slower speeds at first. Increase speed if needed, until the optimal RPM's is determined. Keep in mind that the faster the bit is turned, the faster it will get dull. So there's a compromise to be found. For instance, using in a die grinder will work faster but will dull faster as well. By using a drill press, the recommended circular motion can not be achieved, so if the Rescue Bit breaks, it would be impossible to remove easily.
Caller's question – Can I use a die grinder?
Answer – Yes, besides using a drill, a die grinder can be used too. *Note – The correct size adapter collet must be used. Most standard air die grinders have a 1/4″ collet and some have a 1/8″ collet that came with the tool originally. Some get lost since most tools designed for die grinders are 1/4″.
The 1/8″ Rescue Bit must be used with a 1/8″ collet.   –  1/8″ Collet for Sale
The 3/16″ Rescue Bit must be used with a3/16″ collet. – 3/16″ Collet for Sale
The 1/4″ and 5/16″ Rescue Bits must be used with a 1/4″ collet that is the most common found in air die grinders.
Caller's question – Should I use WD40?
Answer –  No. The Rescue Bit manufacturer, says do not use WD40 or any other cutting oil like you would normally do with a regular drill bit. The reason is because the Rescue Bit makes fine dust instead of metal shavings. The use of oil will cause the dust to collect and this may cause the bit to bind and break. The goal is for the Rescue Bit to cut and not slip, this is another reason not to lubricate. Also, remember that the Rescue Bit can withstand a higher temperature than a regular drill bit so cooling is not needed (more on this below).
Caller's question – What if I find that the threads are damaged after removing the broken pieces?
Answer – We sell all types thread repair kits. Helicoil is the most common brand, but we prefer Time Sert because their thread repair system uses sold bushing type inserts rather than a thin coil of wire. See our Time Sert products at DenLors and Time Sert products at Wise Auto Tools.
Caller's question – What is the Rescue Bit made of?
Answer – The Rescue Bit is made of Tungsten Carbide. Tungsten Carbide is about twice as hard as regular steel and has a melting point of 5200 degrees Farenheit.
Caller's question – OK. But will it work?
Answer – Again, we cannot guarantee your success. We have had many customers successfully use the Rescue Bit and save a lot of money. We cannot guarantee individual success. There are however, very few options when a broken tool extractor like an EZ Out, a tap or a drill bit has been experienced. The Rescue Bit provides a chance to drill out and extract a broken tool that was never intended to be drilled. If you would like to try it, we wish you luck and would like your review, but remember and please understand the risk is entirely yours.
Caller's question – Can I buy the Rescue Bit at a local store?
Answer – No. The Rescue Bit is a specialty item that is not stocked at any retail stores. We have two websites – DenLorsTools.com and WiseAutoTools.com. WiseAutoTools.com allows for customer reviews on all of our products, see some of those below. For quicker than the normal 2-3 day shipping time, phone orders can be placed by calling between 10-5 Eastern a time at 800-524-9783 or 800-734-8665 (TOOL). The typical cost is 9.99 for 2-3 days and 23.11 for 1-2 days anywhere within the Continental United States.
Past Reviews
A Must Have Tool !!!
Posted by Dave S. on 20th Mar 2014
This Rescue Bit works as advertised. No smoking mirrors. The Rescue Bit performed just as in the YOU TUBE video, I drilled 1.75 inches through a broken tap in my rare engine block. MADE IN THE USA, Great product!!
amazing tool!!
Posted by jamie mackinnon on 30th Aug 2014
Rescue bit preformed exactly like they said it would! Amazing tool! thank you!!
The Only Choice
Posted by Unknown on 21st Jun 2014
I tried all types of drill bits to try to dent the sheared easy out to no success, An internet search turned up a rescue bit. Well worth the purchase as it sliced through that tool steel with little effort . The bit did not heat up and when the job was done it returned to my tool box undamaged , A wise purchase,
Stephen O'Donnell
Calgary Alberta Canada
Truly a bit to the RESCUE
Posted by Jim E Cincinnati on 22nd May 2014
Had worked for days to remove a hardened steel bolt from an engine. Got nowhere with cobalt or titanium drill bits. Used the rescue bit and in two short minutes was one to one half inches into the bolt without hardly any pressure on the drill. Tap out was used with little work and the old broken bolt was out. Thanks Wise Auto Tools!
Keywords – Drill out, broke, broken, remove, extract, easy out, ez out, Rescue Bit, tap extractor.
Comments
Write a comment