How to Tell if an Auto AC Compressor is Bad?
July 5th, 2014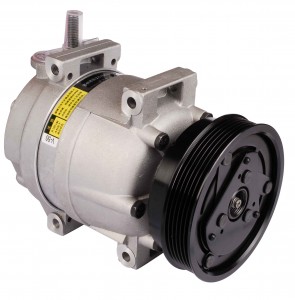 DennisB WiseAutoTools.com © Summary: This article is written by an ASE Master Tech with many years experience working on automotive air conditioning in Florida. A common question is "How can you tell if a car or truck's A/C compressor is bad?". This short easy to understand article answers  this question once and for all.
Most AC compressors only act as pumps. Very few have some sort of regulation of pressure built-in. The V5 compressor in the image is one exception. It has a variable displacement. But for most compressors just think of them as a simple pump. The question below was asked regarding a compressor that was replaced on a system because they thought it was bad. They thought that since it pumped too high of pressure, it had to be faulty. As you'll read, this couldn't be further from the truth.
 Dennis: I am having issues with too much high side pressure, system kicks out on high pressure on ranger at 400-450 and the high side line is extremely HOT, low side seems fine 35-45. The system has been recovered and the compressor dryer and orifice tube replace ( the issue mentioned above was before repairs had been made ) After replacement of parts mentioned above, dropped in the recommended oil half in compressor and other half in dryer and pulled vacuum on system. Then dropped in recommended amount of R134a on Ford Ranger is 30 oz. when you start to get close to filling the system and it starts to cool a little the high side goes up again and causing the compressor kick off and on due to high pressure and the line is still very HOT. Had the system broken down again and had a feeling the condenser was a parallel and was stopped up I replaced condenser in front of radiator and started over again and lo and behold the same thing has happened. I'm at a loss and im no AC expert but an average home mechanic working on his own vehicles. This issue is baffling to me and I don't understand how I can have the same issue 3 times with new compressor, drier, orifice tube and condenser, note when I replaced major components the evaporator coil was flushed several times and blew out with dried air for a while, till all moisture was gone. This repair has cost me a lot of money even a remanufactured compressor and aftermarket replacement parts also freon WOW, don't know what else to do other than wishing I had taken it somewhere else to start with. This simple to moderate repair has been a major headache!!
Well let me start with saying that 45 on the low side is high and you already know the high side is far above normal. Most of the time two things cause too high of pressure;
1. The system is overcharged (with Freon, flush or oil).
2. There's not enough air through the condenser to cool it sufficiently.
The high pressure line being very hot is normal. The higher the pressure the higher the temp of the line. You have the same problems because of the wrong diagnosis. Keep in mind that even though you've opened a system, there could still be refrigerant in it. So if you add a full charge plus what's already in it you can have an overcharged system. Also the flush, if not removed completely can result in an overcharged system. It is very difficult to remove ALL of the flush solution just from blowing air through the components. I recommend not dumping a lot of flush into a system if not absolutely necessary. You're better off with an added on in-line filter in the suction line if the system is really contaminated badly. If the system isn't' really dirty (black oil) the new accumulator or dryer should be sufficient. Keeping the vacuum pump running for an extended period may help remove excess flush and Freon. The vacuum lowers the boiling point and allows the vaporized flush and refrigerant to be removed with the vacuum pump.
If the cooling fan (or condenser fan) is not working properly the pressures will climb above normal. Also if the vehicle's engine is overheating, there can be heat transfer from the radiator.
In conclusion; If you have a compressor pumping up to 4-500 pounds of pressure – it's not bad. It's pumping great. The problem will still be there if you put another… and another compressor on. The problem is most likely the system being overcharged or there's not enough airflow to cool the condenser. Good Luck.
How to tell if your A/C compressor has failed?
1. Not pumping. If the compressor clutch is engaged and both pressure readings are the same, the compressor has failed. Say the both high and low readings with the compressor engaged are 80-100 psi. this means the compressor is not pumping.
2. Leaking. If the compressor seam or front seal are leaking, the compressor is bad. Yes, they can be rebuilt or resealed, but most of the time you are better off replacing the unit. This is because special tools and knowledge are needed to successfully rebuild an AC compressor. Quite honestly, a do-it yourselfer will not have much of a chance of pulling off a successful rebuild. Even professional techs are few and far between that possess the ability to rebuild a compressor successfully.  Most prefer installing a replacement that has some sort of warranty anyway.
3. Locked or seized compressor. If the shaft of the compressor cannot turn, it is said to be locked up or seized. This is one of the easiest problems to diagnose. Plain and simple.
Comments
Write a comment