Genisys Touch Scan Tool – More than just a touch screen
August 1st, 2013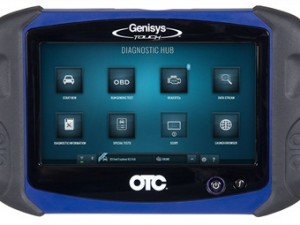 DennisB WiseAutoTools.com © Summary: The Genisys Touch screen scan tool is the latest addition to OTC's line up of professional diagnostic solutions. This tablet style scan tool uses the Windows 7 operating system and functions similarly to using a Smart phone with icons select-able by touching for ease of navigation. It combines many resources all in one easy to use device. They've designed this scan tool with the real shop environment in mind, while understanding that many technicians like access to information online as part of their diagnostic process. More on this below. First a little on the recent takeover. Bosch actually owns the automotive tool division which is primarily known as OTC, purchased from SPX. SPX is still a large company that has decided to concentrate their efforts in other industries.
At a recent tool trade show, Ed Lipscomb which is a senior product manager for OTC and now with Bosch says he and his colleagues are happy that Bosch is the new owner. "As car guys you have to like the fact that a huge OE automotive parts manufacturer owns the tool company you work for".
Bosch is the manufacturer of many components for cars like spark plugs, alternators ignition parts etc. In fact they are the worlds largest  producer of automotive parts, producing original equipment parts, replacement and aftermarket components. With their strong involvement and commitment to serving the automotive industry, owning a tool company like OTC is a perfect fit.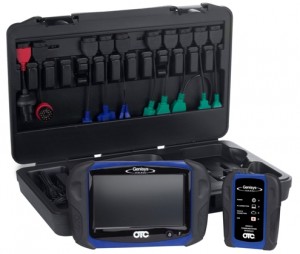 More on the Touch The Genisys scan tool has been around shops for many years. In fact I've personally owned several. It's a scan tool that I have sold to many repair shops that want a reasonably priced, all around solution. The regular Genisys get's them into not only the powertrain, but also the ABS, SRS and body control modules of the majority of vehicles that end up in their service bays. But when first hearing about the Genisys Touch, I didn't realize that the touch screen was only ONE difference. The touch screen is cool but to be honest, it isn't all that exciting to me. I've got an I-phone 5 which obviously has a touch screen; I've got a touch screen on my radio in the truck that encompases the NAV system… What I didn't know, was the Genisys Touch is MUCH more than a regular Genisys with a touch screen. As I've already mentioned, it uses the Windows 7 operating system. Some of you may remember, the OTC Pegisys took a lot of heat for having a quirky Linux operating system that was very limited. The Genisys Touch has icons right on the screen similar to a smart phone. And like the ones on the Smart phone, the numbers associated with icons indicate a certain number of records. For example; numbers on the texticon on the phone would mean that there's that number of text messages to be checked. With the Genisys Touch a number on the DTC (Direct Trouble Code) icon means there's that number of codes stored etc. Another nice feature is not having to put the VIN in manually. Auto ID plugs in the year make, size engine etc, when vehicles are equipped with mode 9.
Jim Newkirk Audi/VW Specialist with Identifix says "There is no more powerful tool in the industry".
Pete Meier Technical editor with Motor Age Magazine says "It's putting all the resources you need, in one place, the palm of your hand".
Identifix Direct Hit with Identifix is a favorite among auto technicians. It allows searching for codes and particular symptoms for the car being diagnosed. Identifix was something that I used often when I worked at Carmax. It has a built-in database of problems and fixes from shops everywhere. On many occasions this would save time because it would take me directly to the common problems, called pattern failures. It's like being able to ask all the guys in the shop at the same time if they have ever had a particular problem with a certain vehicle. And that shop happens to have thousands of experienced automotive technicians under one roof. Sure Identifix can be accessed on a PC, but with the Genisys Touch, the scan tool is already in your hands. Also the vehicle information and trouble codes (if applicable) are plugged in automatically. So if subscribed to Identifix, just initially enter the user ID and login information and you're all set. IATN will probably be added soon. Training Videos Short related videos are embedded for quick reference. These videos are short and to the point. More are being added constantly showing test procedures and common issues. After-all, if pictures are worth a thousand words, relevant videos are a gold mine. Google  Sometimes it's good to be able to just Google a certain problem. Certain auto repair blogs and forums are the first to post new problems and fixes. With the Genisys Touch searching on Google is as quick and as easy as using a PC, laptop or tablet. Adapters All the adapters shown in the top image are included. We used to call them OBD I adapters, but now they are more correctly referred to as "OEM adapters". They may not be needed much since most manufacturers allow pretty comprehensive information through the standard OBDII connection. But sometimes there is additional specific factory information available by using the OEM data interface. J2534 Pass Thru Interface If reflashing vehicle's control modules is something that's important to your repair shop, it's good to know the Genisys Touch has this hardware included. A Vehicle communications interface or also called Pass Thru hardware can cost hundreds or thousands of dollars more for competitors scan tools. This can be used to update control modules related to the powertrain, and sometimes other control modules for other systems. In some cases being able to flash, in house, can mean keeping the customer coming to your shop rather than making them a new patron at the local dealer.
Related
OTC3895 Genisys Touch Product Listing
Comments
Write a comment