Ford Spark Plug Thread Repair Tool Kits
September 11th, 2013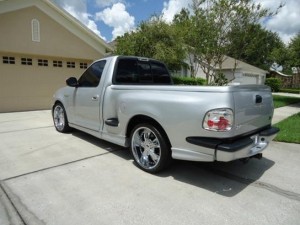 DennisB WiseAutoTools.com © Summary: Ford's are by far the vehicle that has the worst track record when blowing spark plugs out due to failed aluminum threads. This repair article is written by a Master Tech that has been helping auto repair shops and vehicle owners repair spark plug threads in Fords for many years. The article reveals which spark plug thread repair kits are worthwhile and which ones are just a waste of money that ultimately make the hole bigger and uglier! Brands covered are Full Torque (Lock n Stitch), Lisle, Helicoil, Time-Sert, Calvan, Snap On (Blue Point), OEM (Auto Zone), Dorman (Napa).
No time to read and just want some help getting the right kit? That's fine call us (or ask below in the comment section) and we'll be glad to help. If commenting please provide the year make, model and if there has been an insert of some type used previously. Otherwise we have more information below.
First as full disclosure we are Time-Sert distributor and have sold products like Heli-Coil (by Emhart), Lisle, Calvan (by Horizon Tools) and Time-Sert (by Time Fastener Company) over the years. Full Torque (by Lock n Stitch) is a very expensive thread repair kit. In fact it's one of the most costly thread repair kits for Fords that we've seen. The dowel method for locking the insert in involves a trickier installation process that calls for drilling beside the insert to install the locking pin (or dowel). Full Torque kits are NOT available anywhere on the Internet (for online checkout anyway). However a recent customer of ours reported that the Full Torque kit was priced ridiculously high at around $800! Our customer also was concerned with using separate "locking pins" that could possibly fall down into the cylinder when doing the repair. I don't think that would be a major concern, but the Big Sert (by Time-Sert) has a more fool-proof method of using a locking pin, we'll talk more about in a moment. Also the claim that only aluminum thread inserts should be used in aluminum heads for proper expansion and contraction when heated and cooled is NOT what we have found to be true. Time-Sert does have an aluminum option that is usually used on racing applications (or street high performance) when this is a concern.
We've been selling a couple of different brands since 2005 that use a solid threaded bushing type, steel alloy insert that shares enough of the same characteristics as aluminum as to NOT cause any issues. We would agree with Lock N Stitch that the thin steel Heli-Coils may distort and cause issues especially considering how thin they are to begin with. Aluminum is the weak link in this scenario anyways right? Never heard of many spark plug thread issues in cast iron heads of yesteryear. Only with the exception of someone cross-threading and trying to force a spark plug in – crooked. When this occurred, a skilled tech could use a thread chaser to repair or "clean up" the damaged threads. With aluminum this is NOT a good idea. Aluminum threads can be cleaned but rarely is it strong enough to hold the spark plug and compression after doing so (for any reasonable length of time).
More on the Best Insert Material
Steel has a much higher tensile strength compared to aluminum. Aluminum is sometimes a good choice, like in racing applications, however loosing the strength of steel makes using aluminum in any case a trade off.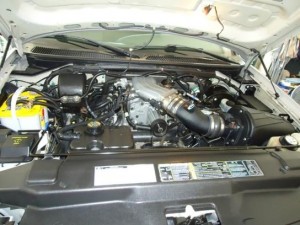 The Worst Kits that can be Bought
The kits that are sold at parts stores for around $20 to around $50 are the ones that fail most often. We have calls just about everyday from Ford owners that were in a bind, bought what the parts store had and are forced to deal with repairing an even larger hole now. So resist the temptation no matter how convenient and quickly accessible the cheap thread repair kits are at the local parts store. There's a reason there are over-size kits available and those cheap kits are it.
Lisle Thread Repair Kit
We've sold the Lisle thread repair kits in the past. Usually they work OK. The price of the kit compared to other options does not make this a good choice. Also we don't like any kit that tells us to strike the top of the insert with a cone shaped tool (called a swedger) to lock it in place. Really is that the best method to hold an insert in place? And is "swedger" a real word anyway? I don't think so.
Dorman Napa, OEM Auto Zone and other Parts Store Variety Kits
A common misconception is that they wouldn't be selling these cheap thread repair kits if they didn't work. Positive reviews for these type of products may be premature. Sometimes a vehicle owner may think the repair was successful, but then the plug spits out again and they never go back and change their original review. We talk to some of these frustrated vehicle owners all the time that have had them fail. Sometimes they were just in a bind, stranded and bought the first kit they could get their hands on. That's understandable. Other times they're the guys that need or want their repair to be on the cheapest side possible. But is it really an inexpensive or a cheap repair if it doesn't hold? Sometimes in an attempt to save money, more is spent in the end. In the aftermath, we also talk to shop owners and technicians searching for a thread repair solution after a temporary patch job has failed. One of the cheap repairs involves using an adapter, sort of like a "non fouler" that prevents spark plugs from fouling out if the engine burns a lot of oil. So we have shop owners and mechanics describing this funky repair adapter that has failed and left an even larger hole to be repaired. Fortunately there are larger outside diameter options that we have to repair the damage that these kits have done.
Helicoil (Save-A-Thread) Black and Decker Thread Repair Kits
Helicoil is the best known brand but not really the best repair solution. Heli Coil thread repair kits are arguably the most "known" brand of thread repair there is. I still have owners of TIME-SERT and Calvan thread repair kits call to get replacement inserts that say " I need to get some more HeliCoils" for my Tme-Sert Kit (or Calvan Kit). It's like calling any small front end loader a "BobCat". There are other brands but Bobcat is the most known. Many Helicoils though are just a thin coil of wire. They have an installation tang that is to be removed after the coil is in place and usually rely upon the spring (expansion) force to hold it in the hole (and whatever is threaded into it). The spark plug Save-a-Thread kit has a thin solid insert with cleats that help it stay in place. However some people trying to use them have reported that once the spark plug and extension are used to install the insert, the spark plug cannot be removed to carry out the final step because the insert wants to come out with the plug.
Calvan Brand, Snap On, Blue Point (Horizon Tool Company)
Horizon Tools makes the Calvan 38900 Kit used on the vehicle even in vans with difficult access. It is also supplied to Snap On which puts the Blue Point name on the exact same kit. It's sold to other companies as well and marketed with their branding. Calvan has very limited vehicles that their kit works on. Typically used on the most common Ford vehicles that have the blow out problem, but the Calvan kit does not work on all of them.
For use on 4.6L, 5.4L and 6.8 V-10 Ford Triton Two Valve Engines (NOT for Intech or other DOHC).
For use on years 1996 to 2003. (Other Fords can most likely use the TIME-SERT 5553, see related section below for more information)
We've sold many of the Horizon made thread repair kits over the years. They work great. One unique component in the kit is a leak down test valve and hose assembly that helps to determine when the valves are closed. By using shop air from an air compressor, turning the valve open slightly and inserting the stopper into the spark plug well, the following steps can be taken to determine when the valves are closed for a particular cylinder. By the way this valve assembly can be used to determine if valves are closed on other applications as well even-though the entire kit cannot be used on engines other than the ones prescribed above.
Turn the engine over with a starter switch or by hand (using a socket and ratchet or breaker bar on the front crankshaft bolt.
Once the valves are closed, the stopper will pop out due to pressure being sealed off by the closed valves.
Recheck by placing the stopper back in the well. It should pop back out immediately verifying the valves are in fact still closed.
By verifying the valves are closed, debris from drilling and tapping will not go past the cylinder. Then using a shop vacuum with a plastic tube or hose attached debris can be vacuumed after the work has been performed. Compressed air can be used to blow out the cylinder as well. Then with the injector and the coil disabled, cranking the engine over a few times prior to installing the spark plug will insure any minute debris is ejected.
The Horizon Tools, kit uses a steel alloy insert that has no issues with heating and cooling. It's a steel alloy that has a similar make up as the aluminum as far as expansion and contraction yet it is 10 times stronger than aluminum. The inserts are grounded properly in the cylinder head. The outside measurement of the insert is oversize (.73″) and the inside accepts the original size M14 x 1.25mm spark plug, unlike the cheap non fouler looking repair mentioned previously in this auto repair article (which some use a different size plug). The Calvan insert also has the taper seat built into the insert which accepts the taper seat spark plug without having to recreate the proper seat in the cylinder head. This eliminates the possibility of ending up with compression leaking out because of a damaged seat. The shoulder on the insert bottoms on the cylinder head allowing it to tighten down, as opposed to the HeliCoil type that may thread too far inside the port having nothing to draw down against. JB weld is used to prevent it from backing out when the plugs are changed the next time. This repair unlike the parts store cheap fixes, is a permanent repair that will last as long as the engine. It is 10 times stronger than the original threads. The only drawback is that the engines that this kit is designed to be used on is very limited. The line up adapter in the kit is only made to fit into the spark plug wells of the engines listed above. This makes it NOT usable on other applications.
TIME-SERT 5553 Thread Repair Kit (by the Time Fastener Company)
Time Sert components are made completely in the USA. With one look at the inserts and tooling, the quality of these kits cannot be denied. Time Sert was making thread repair kits for the Ford Escort many years ago. In fact the 51549 insert (.68″ O.D.) insert that is in the 5553 thread repair kit for the Triton engines are a descendant from those first Escort inserts from long ago. Time-Sert offers many options that the Horizon made kit does not. The tooling is a stepped design that does not require a line up adapter to guide the tooling in straight. The stepped design self aligns the tooling making the task of going in straight a no brainer. Besides having steel alloy inserts, aluminum are available in cases where someone has a high performance vehicle or a race car. Taper seat are what comes in the 5553 kit, but washer seat type inserts are available as well for other applications. An extra installation ring part number 5184A is used when installing fully threaded inserts to prevent damage to the upper threads when installing them. The installation tool that is supplied in the kit is designed to expand with a supplied allen wrench to hold onto it securely when installing the insert initially. Then once the insert is in place the allen loosens the grip that the installation toll has allowing it to back out leaving the insert in position.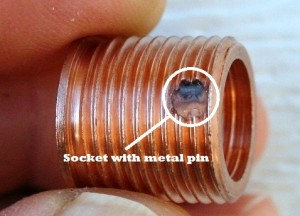 Then a  driver tool is used that actually cold rolls or completes the lower threads expanding and pushing out the insert locking it into place. On the Big Sert inserts like in the 5553 kit there is also a locking pin that is embedded into the side of each insert, The pin prevents the insert from backing out combined with the fact that the insert has been expanded from the bottom during the driver installation step, No whacking a cone or swedge tool with a hammer when using a TIME-SERT kit!
Comments
Write a comment